Call for Papers: Rethinking Urban Spaces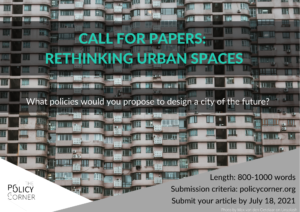 By 2050 the world's population is expected to reach 9.8 billion, according to the United Nations. Nearly 70 percent of this booming population – 6.7 billion people – is projected to live in urban areas. The role of cities as agenda setters with regard to a broad range of topics is increasing. How will this shape or transform national and international governance? As urbanization accelerates, how can cities respond? What will future urban spaces look like? Can cities serve as a testing ground for innovation? How can we make cities more just, resilient and sustainable? These are some of the many questions policy-makers must ask themselves as the world's urban population explodes. Noting past lessons and anticipating new challenges, what policies would you propose to design a city of the future? We are looking for articles that engage with this issue from different perspectives and disciplines, including environmental, development, or economic policy.
Eligibility:
Open to students and young professionals.
Submissions should be
between 800 and 1000 words (excluding references)

written in English (US American)

supported with at least five references to credible sources (Chicago Style endnotes)

original, previously unpublished work of the author

concluded with a clear policy recommendation
Please check our submission criteria on policycorner.org/submit-an-article and send your submission to submissions@policycorner.org as a word document by the 18th of July 2021. Please provide a catchy title (max. 8 words) and an article summary (max. 50 words). The word document should be anonymous. Please include your name, your age, your current location and a short biography separately in your email. 
Who Are We? 
The Policy Corner is an inclusive online platform for students and young professionals to publish research-based articles on global issues. Founded in 2016, we aim to empower young scholars to engage in public debate while providing readers with innovative commentaries on current policy challenges. All articles submitted are subject to double-blind peer review and copy-editing, providing contributors with constructive feedback on their argument and writing-style. It is our aim to improve your writing skills, so that your innovative ideas will be heard.
Our team is based in Berlin and Paris and covers a broad network of reviewers and copy-editors around the world. We have published over 50 articles and organized policy events in Berlin, Paris and Maputo. Currently, we are setting up regional chapters in Tbilisi (Georgia), Ontario (Canada) and Goma (DRC) and have working relations with a team in Wellington (New Zealand).
You can join our monthly meetings in Paris or Berlin and get involved with The Policy Corner team. To learn more about how you can get involved, get in touch with joinus@policycorner.org. 
We look forward to hearing from you!
Photo by Max van den Oetelaar on Unsplash