Call for Papers: Adapt!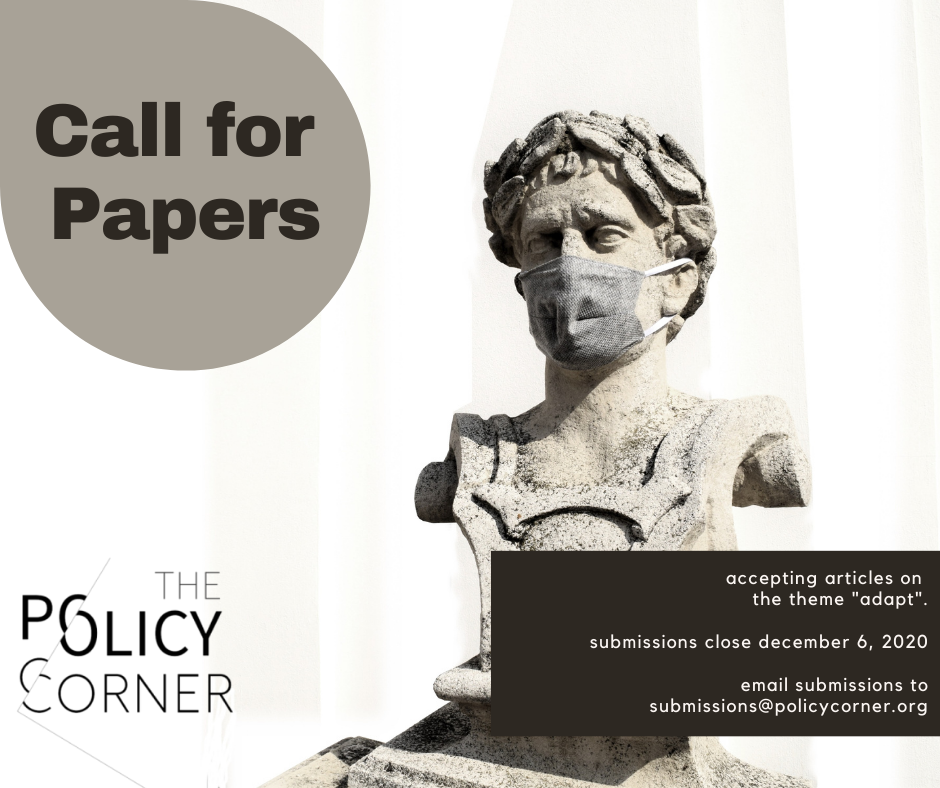 The Policy Corner is excited to announce its latest call for submissions! We are seeking articles based on the theme ADAPT. This year, everyone has to adapt. How have governments been adapting to meet pressing challenges in the face of COVID-19? How have protest movements been adapting to shifting political landscapes? How have development initiatives adapted to provide services where they're most needed? How are countries adapting to the threat of climate change? We're looking for articles on any global issues centred on the theme of adaptation, especially those that offer policy recommendations. Selected articles will be published both on The Policy Corner website, and in a special edition online magazine.

Submission Details
Papers must be submitted by December 6, 2020, 23h59.
Papers must be submitted via email to (submissions@policycorner.org) in either .doc or .docx formats. In order to submit the best article possible, please familiarise yourself with our submission requirements and the format of articles on the Policy Corner website. Please note that we only accept and publish articles which conform to these criteria. Submission emails should include the following information, not appearing on the paper itself:
Your name
Title and word count of your document
Your age
Your current location
Information on your age, name, and location will neither be shared with the review team nor with the jury.
Papers must address a topical issue area, challenge, or initiative and make potentially actionable and innovative policy recommendations.
Papers must be between 800-1000 words